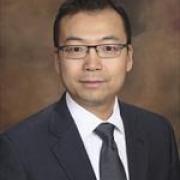 Peng Cong, PhD
Dr. Cong is currently Margaret Liu Collins and Edward B. Collins Professor and Director of Brain Interface Technology, Department of Neurological Surgery at University of California San Francisco (UCSF). His work is aimed at translational brain computer interface (BCI) and implantable neuromodulation technologies to address complex neurological disorders, including depression, ALS, and impacts of stroke.

Dr. Cong is an accomplished device engineering leader with significant industry experience in the realm of brain computer interface (BCI) and implantable neuromodulation. He joins UCSF from Google's Verily, where, for more than six years, he has held leading positions in neuromodulation, spearheading a number of engineering projects, where he initiated, led and completed overall implantable system development for Galvani Bioelectronics, a $715M joint venture between Google and GSK representing one of the world's first bioelectronics systems. The system received FDA IDE approval with the first chronic implant in early 2022. Prior to his work at Verily, Dr. Cong was a Principal Engineer at Medtronic, where he made major contributions to neuromodulation by leading ASIC and electronics platform development for next-generation brain-interfacing implantable devices, including the sensing-enabled Active PC+S, Summit RC+S brain stimulation device, and Percept device, which was commercially released in the market in 2020.

Dr. Cong received his bachelor's degree in Physics (Semiconductor Technology) from Shandong University, a master's degree in Microelectronics from Tsinghua University, and a PhD in Electrical Engineering from Case Western Reserve University. He is an Associate Editor for IEEE transactions on Biomedical Circuits and Systems and a Guest Editor for IEEE Journal Solid-State Circuits. He served on the technical program committee for the IEEE International Solid-State Circuits Conference and the European Solid-State Circuits Conference. He also served in panels for NIH (Nation Institute of Health) to review Brain Initiative proposals since 2014.