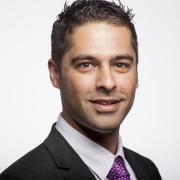 Mekhail Anwar, MD, PhD
Mekhail Anwar, M.D., Ph.D., is an Assistant Professor in the Department of Radiation Oncology at the University of California, San Francisco, with expertise in electrical engineering focusing on integrated circuits and micro-fabricated sensors for cancer imaging with a clinical practice in Radiation Oncology specializing in the multimodality treatment of malignancies using focal, targeted radiation therapy.
Dr. Anwar has over 13 years of experiences developing micro-fabricated devices for biomedical applications. Educated at UC Berkeley in Physics, where he was awarded the University Medal as the top graduating senior, he completed his medical degree at UC San Francisco, and went to the Massachusetts Institute of Technology where his Ph.D. in electrical engineering focused on using micro-fabricated devices and integrated circuits for biological detection. He has several first author publications spanning integrated circuits, imaging, and protein arrays. His clinical interest in oncology is using new techniques in imaging to guide therapeutic intervention, and he has clinical research efforts in, pancreatic, liver and prostate cancer as well as glioblastoma. His research focus is fundamentally guided by where innovations in diagnostic and treatment technologies can most benefit patient care.
Research Focus
The primary focus of his laboratory is to identify where gaps in diagnostic information and therapeutic tools compromise patient care, and develop tools to solve these problems, with an emphasis on sensing in the tumor microenvironment. Acutely aware of their limitation in spatially identifying microscopic disease, Dr. Anwar's solution is to embed sensors directly within the tumor and the neighboring microenvironment, to achieve increased sensitivity, guiding precise, focal therapy to enhance the efficacy of current treatments while mitigating toxicity. His work synergistically incorporates biological approaches with integrated circuit and micro-fabricated technologies, leveraging the advantages of biological systems (interface, detection, synthesis and release of ligands, etc.) with those of electronics (computation, analysis, communication and actuation) to solve problems in therapeutic and diagnostic oncology. This has the potential to introduce new curative paradigms in breast cancer therapy, as current imaging technology, both for staging, treatment planning and surveillance is limited to large foci of disease, and true microscopic metastasis and recurrence, which is potentially curable, often goes undetected.